Brendan Fraser is a Canadian-American actor. He was born on December 3, 1968, in Indianapolis, Indiana, but grew up in Canada. He is best known for his roles in several popular Hollywood movies, including "Encino Man," "George of the Jungle," "The Mummy," "Bedazzled," and "Journey to the Center of the Earth."
Fraser began his acting career in the early 1990s with small roles in films and television shows, but his breakthrough role came in 1992 with the movie "Encino Man." He went on to become a leading man in Hollywood in the late 1990s and early 2000s.
In addition to his acting work, Fraser has also produced several films and has done voice-over work for animated movies and television shows. He has received numerous awards and nominations throughout his career, including a Screen Actors Guild Award and several MTV Movie Awards.
Brendan Fraser has received several awards and nominations throughout his career. Here are some of his notable nominations and wins:
1.In 1999,he won the Blockbuster Entertainment Award for Favorite Actor in an Action/Adventure Film for his role in "The Mummy."
2.In 2005,he was nominated for the Screen Actors Guild Award for Outstanding Performance by a Cast in a Motion Picture for his role in "Crash."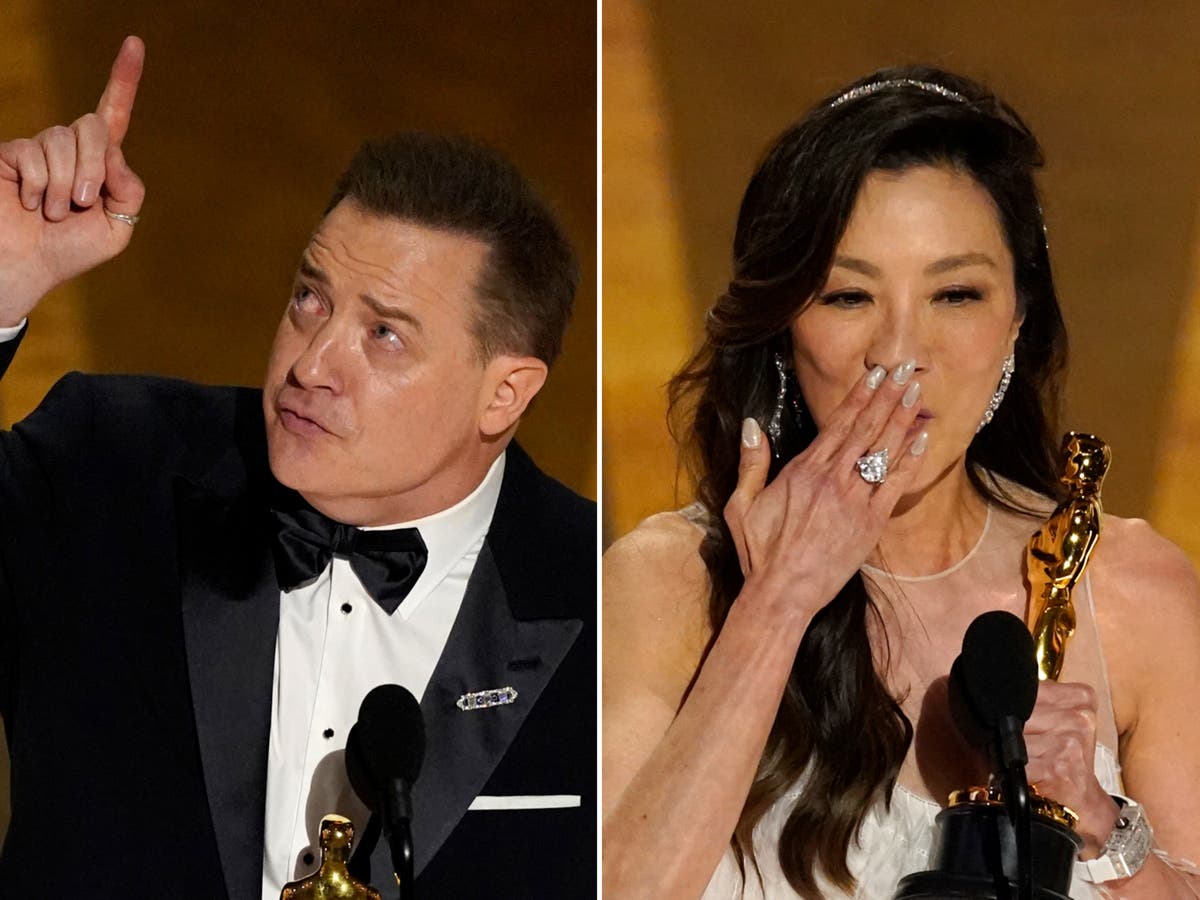 3.In 2009,he was nominated for a Golden Globe for Best Performance by an Actor in a Motion Picture – Comedy or Musical for his role in "Inkheart."
4.In 2010,he won the Giffoni Experience Award at the Giffoni Film Festival for his contribution to cinema.
5.In 2013,he won the Icon Award at the Maui Film Festival for his outstanding career achievement.
6.In 2018,he won the Hollywood Supporting Actor Award at the Hollywood Film Awards for his role in "Trust."
7.These are just some of the awards and nominations that Brendan Fraser has received throughout his career.
Oscars will be held on March 4 and nominated as best actor is Brendan Fraser for "The Whale". His performance as an overweight man who has withdrawn from the world really impressed us and we're glad that the Screen Actors Guild favored him.In the Oscars, he'd be up against Colin Farrell for "Banshees of Inisherin" or Austin Butler for "Elvis."
"The Whale" is a drama based on a 2012 play by Samuel Hunter,who also wrote the film's script.It is set only on one location,inside the apartment of Charlie,an online English writing teacher who is incredibly and morbidly obese.He needs a walking frame to move around,later replaced by a wheelchair.
In his bathroom scene,he is shown to be a mountain of unsightly blubber.Brendan Fraser had to put on a fat suit and prosthetic make up for the role.
Ashamed of how he looks,Charlie doesn't turn on his laptop's camera when teaching his students.He only orders pizza online for his food.The only one who looks after him is Liz (Hong Chau), a nurse who is very patient with him as she turns out to be the sister of his dead boyfriend.
Hong Chau is the Vietnamese actress best known for "Downsizing" with Matt Damon and the TV series "Watchmen" and "Homecoming".She is currently nominated in the academy awards,edging out our own Dolly de Leon as one of the two Asian actresses who made it as best supporting actress nominees.
The other Asian nominee is Stephanie Hsu in "Everything Everywhere All at Once".Like Hong Chau,she is not a newcomer as she has performed in Broadway plays and also did a regular role in the hit TV sitcom "The Marvelous Mrs. Maisel".In other words,both Chau and Hsu have already paid their dues in American showbiz,compared to Dolly de Leon who's a total newcomer.
Going back to Charlie,he has a heart ailment,but he refuses to see a doctor because of the expense and he wants to leave all his lifetime savings to his only daughter,Ellie (Sadie Sink,a former child actress best known for "Stranger Things" and the "Fear Street" horror trilogy.)
He is estranged from Ellie who hates her because he left her and her mom for his boyfriend when she was 8 years old.He wants to reconcile with her before his time runs out,so he contacts her and she comes,so full of bitterness and anger against him.
An itinerant missionary of the New Life Church also knocks on Charlie's door,Thomas (Ty Simpkins of the "Insidious" series),and offers to teach him about faith and the end times. Ellie bullies him but somehow,a connection is formed between them.
The film is from Director Darren Aronofsky,who made such acclaimed films as "Black Swan","Requiem for a Dream","The Wrestler" and "Mother!"."The Whale" is one of his more accessible films,without the surreal elements of "Black Swan" or "Mother!"